Ready or not, the holidays are on their way. Coming from a family of procrastinators, Christmas usually means shopping last minute and trying to figure things out from the wreckage that is stores a week before Christmas.
The problem is, after having kids I quickly learned that shopping with nuggets in tow is basically the least jolly thing known to man kind and will essentially sap any and all Christmas cheer from. So I've been getting used to planning earlier and shopping before the stores get to crazy – or even better, shopping online while the kids nap!
Today I'm sharing my own ultimate gift guide of what you'll fun under our tree this year – there's something for everyone (and no Fingerlings in sight!) and just about everything can be bought online. (you are so welcome.)
A HUGE shout out to the awesome brands I worked with on this sponsored post (Funrise, Muk-Luk, Spin Master, Just Play, Ninja, Learning Resources, Educational Resources, Bissell, American Skillet Company) who supplied me with product so I could give you an idea of whether or not a gift was 100% worth giving!
The following are affiliate links. We are a participant in the Amazon Services LLC Associates Program, an affiliate advertising program designed to provide a means for us to earn fees by linking to Amazon.com and affiliated sites.
Thanks so much for being a part of Morgan Manages Mommyhood!
For the kids in your life
Tonka Rescue Response Station
What little boy (or girl!) doesn't love Tonka trucks? This utilizes the collectible Tonka Tinys that are well loved in our house! Launch Tonka Tinys through the rescue station and help them navigate through the tracks.
The perfect compromise between "coolest Aunt ever" and "best sister ever" – Gears! Gears! Gears! is the perfect gift to encourage learning while kids think they're just playing with a fun building toy.
Every kid loves to talk about and pretend they are animals – these super cute boots from MUK LUKS® are perfect for winter and imaginations! Ryan is obsessed with the bear ones MUK LUKS® sent him – he ran into preschool wearing them and roared at everyone!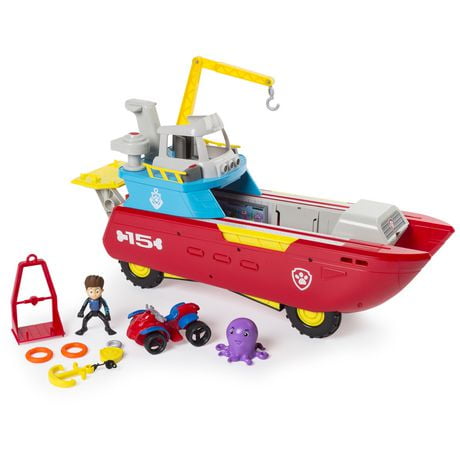 Ryan has been asking for this Paw Patrol toy for weeks! I'm so excited to surprise him with it under the tree. Help Ryder and the Pups rescue sea animals and go on sea themed missions with this boat and land vehicle combination.
Owen sleeps with a little plush Rolly and I know that he'll totally love this little Puppy Dog Pals toy. This toy would be perfect for a family of young kids because it's pretty gender neutral and every one would love to think up missions for Bingo and Rolly to complete for Bob!
Readers know that I'm a boy mom living in a house of all boys, growing up in a home with boys, but I'd be lying if my inner 10 year old didn't eye this year's coolest girl's toys with jealousy! I'm pretty sure ANY little girl would go crazy for these!
Mickey & The Roadster Racers Racing Plush
Because Mickey Mouse is every kiddos fave, but with a fun twist of helping him drive around! The plush Mickey comes out of the car so that you can cuddle him up, but once you out him back in his car he'll sing, drive, and make great fun with your little!
Educational Insights GeoSafari Jr. Kidnoculars
Got a kid in your life who loves all things animals and outdoors? They will love checking out the world around them with binoculars that are made just for littles! These Kidnoculars are perfect for little hands and encourage exploring the world around them!
Got some babies in your life? These gifts are perfect for the under 1 crowd! Make sure you check out my post, The Ultimate Guide to Baby's First Christmas
Looking for a fun stocking stuffer your kids will love but will also bring you tons of nostalgia? Wonder Balls are BACK and so fun! Grab a few and stuff them into your kid's stockings – they'll love the double surprise!
For the Grown Ups:
Ninja Coffee Bar Single-Serve System with Built-In Frother
Moms need coffee. Plain and simple. Save her a few bucks on expensive coffee drinks with Ninja's seriously awesome coffee system. I love that you can froth your milk and brew up a pot of coffee in this super affordable yet impressive coffee machine.
We all have that super unorganized friend. (okay, I'M that super unorganized friend…..) Give them a little boost as we enter 2018 with these gifts!
Power Fresh Pet Lift-Off Steam Mop
Okay, so there is a general, "Don't get cleaning items for your mom/wife/girlfriend/etc" because, rude, but if you're like me and chase around 2 little boys, a muddy lab, and a mechanic around the house in a quest for clean floors, ask Santa for this. Game. Changer.
My job in college was working at a women's fashion shoe store and I adored it – mostly because this time of year I went crazy with my employee discount buying shoes! So long as you know the person's style and size, you seriously can not go wrong with a nice pair of shoes – MUK LUKS®has SUCH a wide range of shoes that are not only stylish but also super comfy!
Got a friend who loves to travel or is always doing cool things? These gifts are great choices!
Can we stop a minute and just talk about how freaking cool these skillets are? They're shaped like your favorite state (they're adding more and taking votes on which should be added next!) and they're handmade cast iron skillet. Uh, YES. My family is full of HUGE cast iron fans and I know what a few of them will be getting under the tree this year! 😉
We tried HelloFresh a while ago and I was SO SO impressed. The ability to create awesome meals for my family in less than 30 minutes without having to even go to the grocery store? Uh, yes. Order them a week's work of meals so that they can spend that time doing things they really love!
Chesapeake Bay Candles
I'm a total candle junkie to I never see candles as a cop-out for gift giving. Chesapeake Bay Candle Company has so many awesome scents that will work for everyone on your list, but I'm loving this Balsam Fir scent to stick with the holiday theme.
For your friend who loves fresh food but has a total black thumb. I got my Click and Grow about 6 months ago and I love having a little bit of fresh herbs in my kitchen. It makes me feel like I can actual garden! (I can't.)
Okay, so tell me – what's on YOU wish list this year? Let me know in the comments!
Gifts for people who have everything
Unique Disney Gifts for Adults – gifts for the young at heart