Summer is here – have the best summer with a toddler without breaking the bank! This guide to easy summer fun for toddlers is perfect for moms of littles.
First Published: June 16, 2016 Last Updated: May 28, 2019
It's officially summer, which means it's time to get out and have fun with the kids!
While summer brings fun, excitement, fresh air and adventure, all of the summer fun can come with a price tag. When my boys were toddlers, I wanted to have the most fun possible, without spending a ton of energy OR money.
With both boys, I think perfected easy summer fun for toddlers. Here are some of the best ways to save money this summer with some frugal toddler summer fun essentials and tips that will maximize fun while minimizing cost. So let's get to it!
Summer Toys for Toddlers
First and foremost, toys! Every kid love toys, right? I think the best way to get the most bang for your buck is to stick to the tried and true classics. They're usually the least expensive and more likely to keep their attention.
Cups
If your toddler is like mine, they love putting things in cups or bowls all.day.long.
Grab all of your toddler safe containers and toss them all into your kiddie pool. Tupperware, metal or plastic mixing bowls, and disposable cups are are perfect. Bonus: Add in a pitcher and he can have fun learning to pour liquids without covering your living room in water!
Balls
Balls are so cheap but they are the basis of so much summer fun for toddlers! Get together all of the balls laying around your house or pick some up at the dollar store. Toss them into the kiddie pool – your toddler will go wild!
Bath toys
Grab that truckload of bath toys and use them as pool toys! Water toys are water toys are water toys.
I personally don't delegate outside ones, just bring them inside and rinse them off. But the dollar store or the Dollar Spot at Target are both great places to pick up cheap water toys.
Outside Summer Essentials for Toddlers
I love getting my kids outside more than anything. The reason why? The sun tires them out!! Here are some easy and affordable outside play ideas to encourage summer fun for toddlers.
Sprinkler
Invest in a sprinkler! Sprinklers are such fun when you have little kids.
Ryan will seriously sit underneath the stream of one and laugh for an hour. If you add in cups (see toys!) he can catch water from the sprinkler and dump it into a bucket across the yard. (aka – tire that toddler out!) The best part is that you probably already have one for watering your lawn
Kiddie Pool
A kiddie pool is the ultimate toddler summer fun essential.
There are so many different kinds out there and usually they're cheap so you can just replace them every year. All you need is a cheap wading pool, which this time of year they sell EVERYWHERE.
there are definitely some fun (and free!) pool games for kids that you can bend a bit to play in a baby pool!
Sunblock and Sun Gear
Of course, find a great sunscreen that works for your family and apply often. Same goes for wearing hats and UV blocking clothing if you can get your kids to agree!
Other Summer Essentials for Toddlers
Popsicles
Bug catching kit
Water table
Outside toys for things like digging
Bubbles!
Ideas for Summer Fun with Toddlers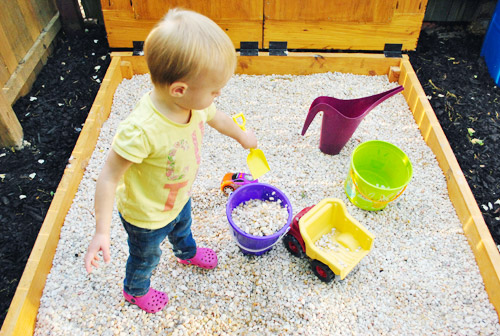 Look into making things yourself!
I am DYING to make Ryan a rock box and I saw this DIY water table round up the other day – both are low cost and such great ideas! We have a water table that's 3-4 years old at my dad's and it's still so much fun for the boys.
Know your area!
Get your local paper and make note of free or cheap events for kids in your area, like special library days or fun street fairs.
Also, learn about what museums, play areas, splash pads, parks, and pools are in your area! Sometimes I'm shocked by the cool stuff in my area!
Check your local parks and library
Head over to the National Parks site to find out when the free entrance days are, and be sure to also check your state parks site for the same information.
Libraries often have a lot of summer activities, as do places like Michaels and home improvement stores, often for free!
Finally, keep it simple!
While I believe in creating summer fun for toddlers, remember they are so little and get overwhelmed easy. They also won't remember this time – it's mostly for you. We try to keep it simple, cheap, low key, for EVERYONE's sanity.
If you enjoyed this post, you may also enjoy these!
What to Wear When Breastfeeding in the Summer
Summer Activities: 5 Kids Pool Games Everyone Will Love