Getting kids to eat vegetables can be tough. These carrot recipes for kids are an easy way to get kids interested in trying the orange veggie. You'll find kid friendly recipes ranging from cake to cookies to honey roasted. There is sure to be a recipe your kids will love. These recipes are great beginner options for picky eaters who hate them. Make sure you add one of these carrot-filled choices for picky eaters to your meal plan this week.
When baby led weaning, both of my boys immediately loved 3 things – bananas, sweet potatoes, and baby carrots.
It was a relief – simple things that were cheap, easy to prepare, and healthy!
Annnd both times they decided that 2 of those were no longer acceptable. Yes, a year in both boys vetoed carrots and sweet potatoes. And just about every other vegetable I offered in favor of cheese and carbs.
I mean, I can't really blame them.
But it's definitely frustrating when you're a momma just trying to get your kids to eat a solid meal.
Trickery to encourage picky eaters
Thankfully, with some perseverance and trickery both boys bounced back from their vegetable aversions. Do they readily beg for vegetables? No. Do they eat every single vegetable I put in front of them? HECK no.
But like I've written about time and time again, you cannot give up on the pickiest of eaters. Only consistent, friendly exposure will help your kids feel more comfortable and confident when it comes to trying vegetables.
Part of my -secret- to get kids to try new vegetables is putting them into super kid friendly recipes. Maybe it means hiding them in some kind of baked good, seasoning them with a favorite flavor, or adding a bit of sweetness. Whatever your kids are into, it is always a good idea to add the familiar with something unloved.
When struggling with where to start with a stubbron kiddo, I always recommend a sweeter vegetable like carrots. Carrots, sweet potatoes, snow peas – they're all generally kid friendly vegetables.
How to choose carrots:
New to carrots yourself? Here's how to choose the best carrots for you family.
Choose bright, deeply colored carrots. The more deep and bright the orange, the fresher and more sweet the carrot will be.
If buying whole carrots, make sure the leaves aren't wilted – those will be the least fresh.
Avoid choosing dry or cracked carrots. This can mean they are older and beginning to dry out.
Look for firm carrot – soft or flexible areas on a carrot means it's getting old.
If you're searching for carrots for kids, baby carrots will usually go over better than large ones. Same goes for colorful carrots.
Looking to get your kids started eating carrots? I've compiled a ton of kid friendly carrot recipes. From simply roasting them with some sweet flavors to hiding them in cake, carrots are super versatile. I'm sure you'll be able to find at least one carrot recipe here your kids will be open to trying.
Carrot Recipes for Kids
Keep reading to find my all time favorite carrot recipes for kids.
Carrot Cake Scones Slightly sweet and fun for kids to help make, these are a fun choice.
Honey Balsamic Carrots. If you think your kids will be put off by the vinegar, you might want to skip these. But they will be perfectly tart and sweet.
Easy Ranch Baby Carrots Ranch is such a solid flavor for kids – you can't go wrong here.
Carrot Veggie Bars this carrot recipe not only uses carrots, but the final product LOOKS like a carrot! so fun.
Carrot Cake Cookie Sandwiches Basically healthy whoopie pies. Okay, maybe not healthy healthy, but the carrots can only help!
Mini Carrot Cake Cheesecakes these are seriously the cutest ever.
Carrot Cake Waffles with Cream Cheese Butter Carrots for breakfast? yes!
Carrot Raisin Salad If you have a raisin lover like I do, they'll love this.
Roasted Carrot Strips These would be a fun substitute for chips.
Orange Glazed Roasted Carrots The orange creates a stick sweet glaze on these carrots.
4 Ingredient Carrot Stars. Skip the crackers and make these. My kids loved them when we made this together.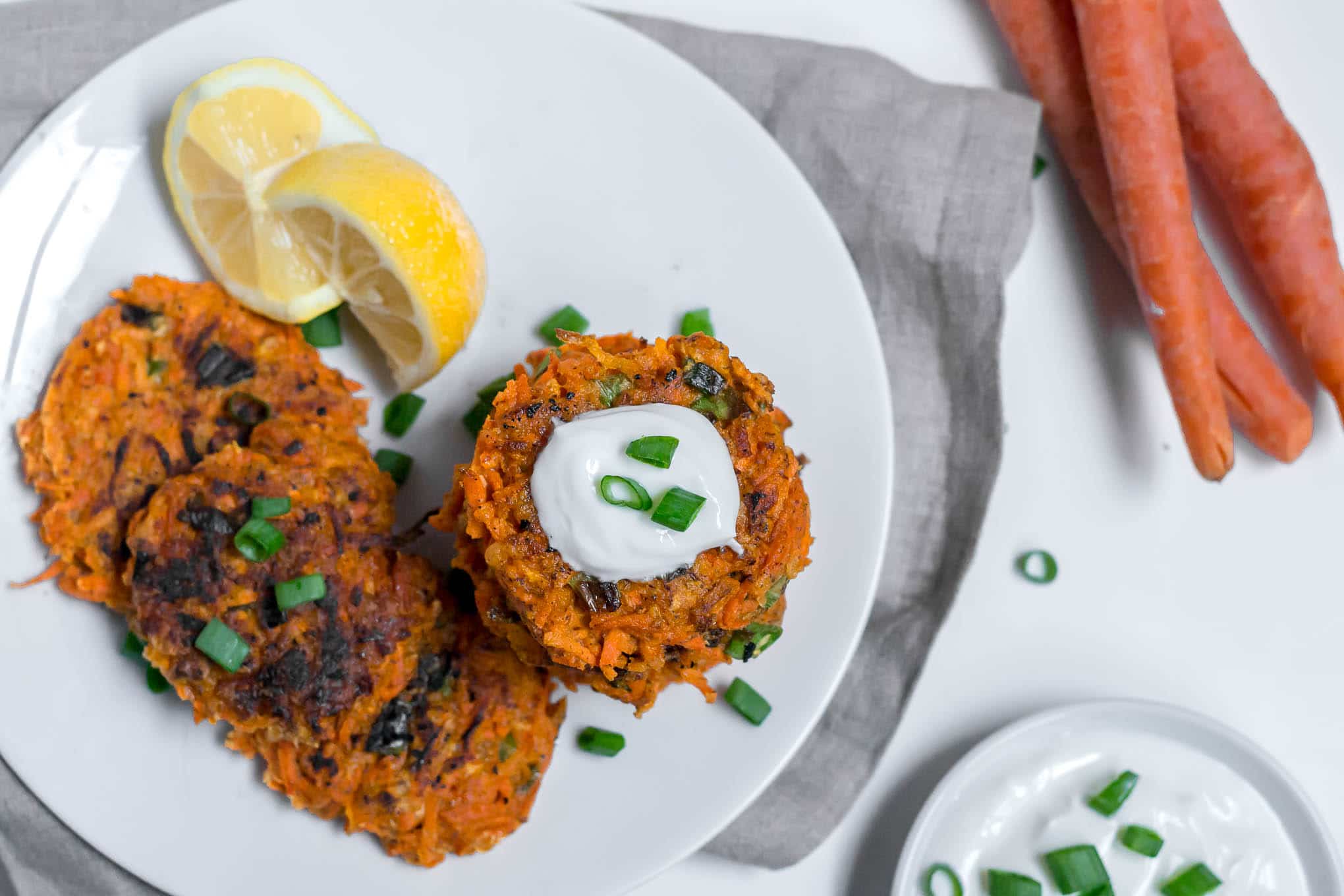 Carrot fritters my kids would devour these little fried carrot fritters.
Healthier Carrot Cake Muffins these are actually gluten free, grain free, dairy free, and paleo!
Carrot Apple Slaw. Sweetness comes from carrots AND apples in this fun recipe!
Carrot Veggie Puffs. These look so simple to make and would make a fun snack.
Carrot Zucchini Muffins. Seriously, put veggies in muffins. Kid love them and they add much needed moisture!
Carrot Mango Raspberry Popsicles Cool down on a hot day with these simple popsicles.
Carrot Cake Sugar Cookies Sugar cookies? Yes. Adding carrots? Duh!
Carrot No Bake Energy Bites My boys love energy balls. I love that this one uses multi colored carrots to make these.
Carrot Cake Oat Cakes These would be so easy to make with your kids!
Carrot Cookies – The orange icing on these looks absolutely amazing!
Okay, so tell me – what vegetable do your kids cringe at? Which do they love? Let me know in the comments!
Looking for more veggie recipes? These spinach recipes for kids are perfect!
Got a picky eater?
My kids eat their veggies every day without complaining. Want my secret?

Grab the Outsmart your Picky Eater cheat sheets to get the inside scoop on how to add veggies to food your kids already love.